AutoCAD Lessons in Limassol

Private and group training courses
Are you an Engineer, Technical Designer, Landscape and Interior designer or Architect? Are you interested in mastering the tools offered by this software used by professionals worldwide? We specialise in AutoCAD training courses in Cyprus. You can choose from our accelerated private one-to-one courses or our small group lessons.
During the AutoCAD training lessons, students learn the features, commands, and techniques for creating, editing, and printing drawings with AutoCAD. Using hands-on exercises, students explore how to create 2D production drawings. Furthermore, students who complete this AutoCAD tutorial gain sufficient knowledge to obtain the official ECDL CAD certificate.
The AutoCAD training course introduces students to the software's fundamental theory and basic practices, allowing them to create detailed drawings for buildings, products, and public spaces in both 2D and 3D formats without having to draw plans by hand.
For companies that have complex training requirements, we provide a range of custom training programs, from customization of standard courses to development of custom curriculum.
A prerequisite to attending the AutoCAD course is to have experience using either the Windows or the Mac operating systems, be capable of basic file management and know how to use standard menus and commands.
No previous design experience is required. However, a basic knowledge of design, a bit of creative flair and an eye for detail are always helpful. Previous experience using any type of Design software is also beneficial but not essential.
Call us Now on 25103848 to book your training course!
.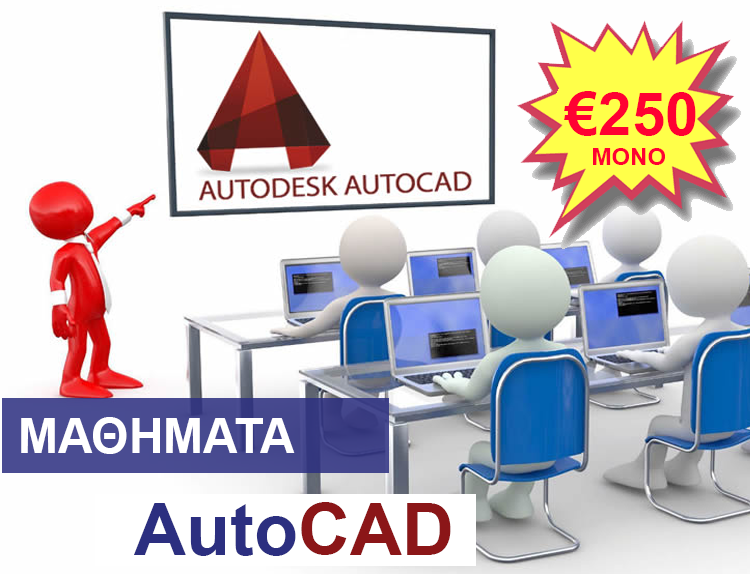 AUTOCAD LESSONS
TOTALCY EDUCATION – LIMASSOL
Registrations Tel: 25103848
Total Cost: 250 Euro
 Accelerated Lessons

 Small Groups

 Experienced Trainer
Private lessons can start whenever you want .
This course had been completed successfully by a great number of students. Students wishing to take the ECDL CAD examination are required to take 3 extra sessions. Private lessons focus on the individual needs of each student.
AutoCAD Services: We can provide CAD design , CAD drafting and 3D design services for architects, engineers, contractors and homebuilders in Cyprus.
3D Studio Max / 3D AutoCAD
This course teaches students how to use the program to design, develop, and create 3D animations. Architects use 3D Studio MAX to create walkthroughs and rendered images for models created in AutoCAD. Mechanical Designers use 3D Studio MAX to show others how their products work, and to tell manufacturers how to build them. Our training is designed to help you acquire the professional design, drafting, visualization and animation skills you need . Contact us for more details on 25103848.